The report card is in. The results are not good. Almost three in four Australian children consume too much sugar, 91.5% of young people do not meet physical activity recommendations, and Australians are among the most obese people in the world.
Today we released Australia's Health Tracker. It shows how Australia's health is tracking in terms of preventable chronic diseases, such as diabetes and heart disease, and their most common risk factors.
Australia's Health Tracker uses health targets and indicators set by a collaboration of the nation's leading health researchers to help Australians reach the World Health Organisation's 2025 targets to improve health around the globe.
One in two Australians have a chronic disease and those on a low income are disproportionately affected. But, crucially, one-third of the disease burden is preventable.
How are we tracking?
Unhealthy lifestyles during childhood lead to chronic diseases later in life. So it's concerning that one in four Australian children are overweight or obese. More than 70% don't meet physical activity recommendations. And junk food contributes too much (39.4% on average) to their daily energy requirements.
To keep children healthy, Australia has national recommendations that those aged five to 17 do at least 60 minutes of physical activity every day.
Junk foods (high in kilojoules, saturated fat, added sugars and salt) should be eaten only sometimes and in small amounts. International guidelines recommend that added sugar should make up a maximum of 10% of energy consumed.
For young people, the proportion aged 12-17 who smoke daily is relatively low (1.2%). But that increases to 4% of 15- to 17-year-olds.
As well, around 6% of young people binge drink. The most recent data show slightly higher numbers of women attending emergency departments for alcohol-related presentations than in the past (7.5 per 1,000, up from 6.7 per 1,000).
On average, Australian adults consume 62% above the recommended daily intake of salt. High salt consumption contributes to the development of high blood pressure and is a major risk factor for heart disease and stroke.
Unsurprisingly then, Australia's Health Tracker shows that more than four million adults have high blood pressure and one in three have high cholesterol.
As a nation, we're not on track to reach the 2025 adult targets relevant to mental health, obesity, diabetes and blood pressure.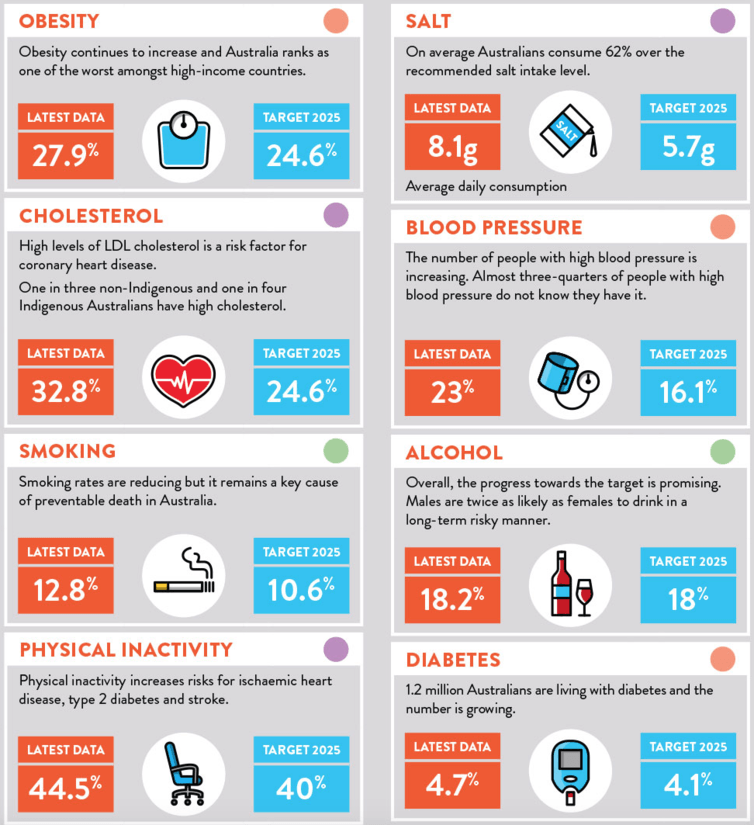 The good news is that public health efforts to reduce risky alcohol consumption and smoking in adults are working.
And Australians are heeding advice to participate in screening programs for breast and bowel cancers. We are well on track to meet our target of 41% of Australians participating in bowel cancer screening (currently 36%) and 54% of women participating in breast cancer screening (currently 53.7%).
What about Aboriginal and Torres Strait Islanders?
Indigenous children and young people are more active than their non-Indigenous peers; 59.5% of children and 34.8% of young people meet the physical activity recommendations. However, Indigenous people aged 15-17 years are 4.5 times more likely to smoke daily than non-Indigenous young people.
The latest data on Indigenous adults shows that:
71.4% are overweight or obese;
one in five have high blood pressure;
one in four have high cholesterol;
almost 40% smoke daily.
Australia's Health Tracker and The Lancet-Lowitja Institute report card, released in April, highlight the significant work required to close the gap.
A healthier Australia by 2025
Investment in preventive health in Australia in 2013-14 was 1.5% of the national total recurrent health expenditure. This is much lower than investment levels in New Zealand (6.4%), Finland (6.1%) and Canada (5.9%).
Australia's Health Tracker shows the urgent need for active and effective public health policies and services to improve the health of all Australians. A national collaboration of health organisations and experts has endorsed the report card and urges all Australian governments to commit to substantial and collaborative investment and action.
Governments have significant opportunities to improve Australians' health by:
implementing national, standardised salt limits in bread, margarine and cereals;
better regulating food marketing to reduce the consumption of sugar and junk foods;
promoting and supporting physical activity in schools, workplaces and communities to help to get us active;
continuing efforts in tobacco control.
Policies should focus on low-income and Indigenous populations who are at greater risk.
If you're worried about your risk of chronic disease and want to make changes to your lifestyle, talk to your doctor, or seek out information and help on:
buying and eating healthier foods;
increasing your levels of physical activity;
participating in cancer screening programs;
protecting yourself from the sun;
drinking no more than two standard drinks on any day.
Australians can have a healthier future. Governments can and must do more to provide healthier food and healthier environments, and act early on risks for poor health and chronic disease.