Avocado toast, scrambled eggs and arugula, healthy pancakes, and more healthy stuff.
Breakfast is a very important meal! The food you eat in the morning can have an impact on how hungry or satisfied you feel later in the day.
And if you choose the right stuff, it can also give you some great energy! All good things.
We asked a bunch of healthy people to share what THEY eat in the mornings. Because it can be good to know that you have more options than that same old bowl of cereal.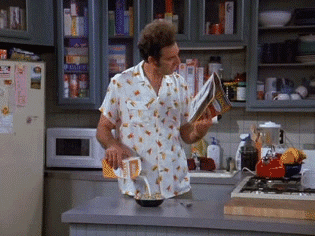 NBC / Via reddit.com
These people think about healthy and delicious eating a LOT. We talked to registered dietitians, personal trainers, health editors, book authors, nutritionists, and healthy food writers. Some are legit experts with degrees after their names, and some are more like you and me. Only… a bit more focused on eating green things.
And here's what they suggested.
Baked Egg in Avocado
"This recipe is not only makes for a mouthwatering breakfast, but also comes packed with protein and healthy mono and polyunsaturated fats. Hello healthy heart!" (Get the recipe here.) —Wendy Lopez, nutritionist, and Jessica Jones, MS, RD, co-hosts of Food Heaven Made Easy
Almond Butter and Salami on Toast, with Fruit
"My husband finds it totally weird, but I've recently fallen in love with adding a couple pieces of thinly-sliced uncured salami to my whole wheat almond butter toast in the mornings. It adds a bit of savoriness that tastes especially good with some fruit on the side. Hey, you'd eat almonds, salami and bread together on a cheese plate — this is just the breakfast version." —Anjali Prasertong, creator of Eat Your Greens and Contributing Editor to The Kitchn
Greek Yogurt With Protein, Chocolate, and Blood Orange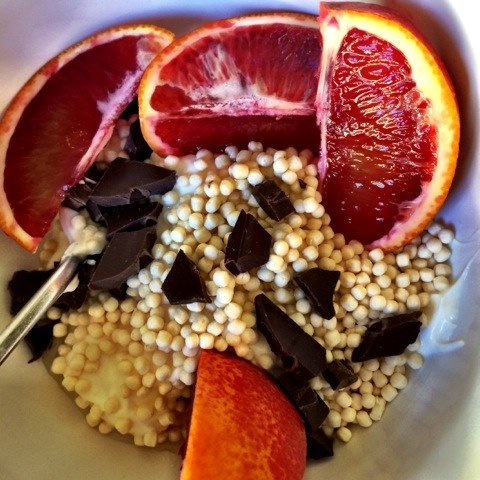 Holly Perkins
"I love this breakfast because it has well balanced macronutrients (macros) at 40% carbs, 30% protein and 30% fat. It is high protein Greek yogurt with a scoop of whey protein "pops," super dark chocolate and blood orange. Who doesn't love chocolate for breakfast?? It balances my blood sugar to give me stable energy throughout the morning, has tons of protein, and awesome antioxidants in that bright red blood orange." —Holly Perkins, C.S.C.S., author of Lift To Get Lean and creator of Women's Strength Nation
Eggs and Avocado Toast with Blueberries
"This is one of my all-time favorite breakfasts — Ezekiel toast with smashed avocado and a poached egg, topped with fresh herbs, sea salt, and red pepper flakes. It's the perfect combo of whole grains and healthy fats. The side of blueberries and the herbs lend a dose of antioxidants. And the capsaicin from the red pepper turns the metabolic fire up a touch." —Michele Promaulayko, Editor-in-Chief of Yahoo Health and author of 20 Pounds Younger
Flaxseed and Almond Milk Pancakes
Jorge Cruise / Via jorgecruise.com
"Who doesn't love pancakes for breakfast? Unfortunately most pancakes aren't too healthy for you, especially when you top it with sugar-filled syrup. However, when you make them out of flaxseed flour and almond milk, you've made a perfectly healthy, delicious morning favorite. Top with some butter and you are set." (Get the recipe here.) —Jorge Cruise, ACSM- and ACE-certified trainer, and author of Stubborn Fat Gone!
Wild Blueberry Ginger Smoothie Bowl
EA Stewart / Via eastewart.com
"This Wild Blueberry Ginger Smoothie Bowl has a healthy balance of carbs, protein, and fat to keep you energized all the way to lunch! As a delicious bonus, wild blueberries are rich in antioxidants, and ginger is a great natural anti-inflammatory. It's easy to make your own bowl! Just blend plain Greek yogurt with frozen wild blueberries and ground ginger, then sprinkle on your favorite granola, or a combo of chopped nuts and seeds. Enjoy!" —EA Stewart, RD, integrative dietitian nutritionist and blogger at The Spicy RD
Fruit, Veggies, and Sprouted Toast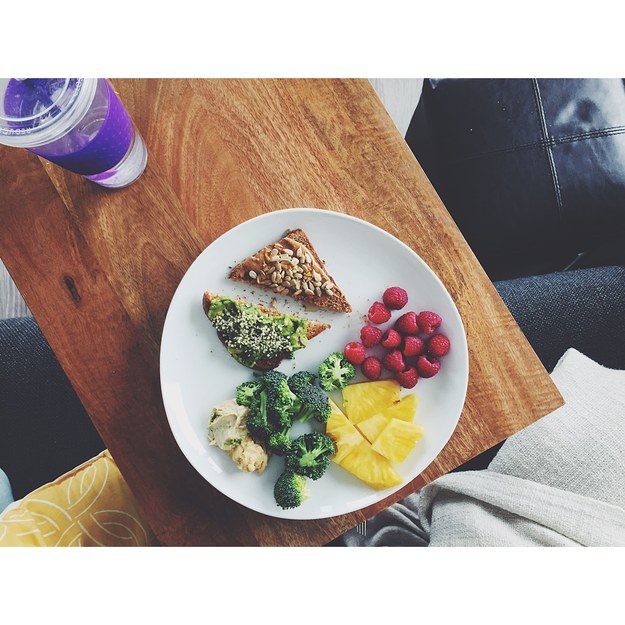 John and Diana from The Minimalist Baker / Via minimalistbaker.com
"Most days of the week I keep it simple for breakfast with a green smoothie (not pictured) and a plateful of fruit with sprouted toast. I like smashed avocado with hemp seeds on half, and almond butter with sunflower seeds on the other." —John and Diana, co-creators of The Minimalist Baker
Vanilla Green Protein Smoothie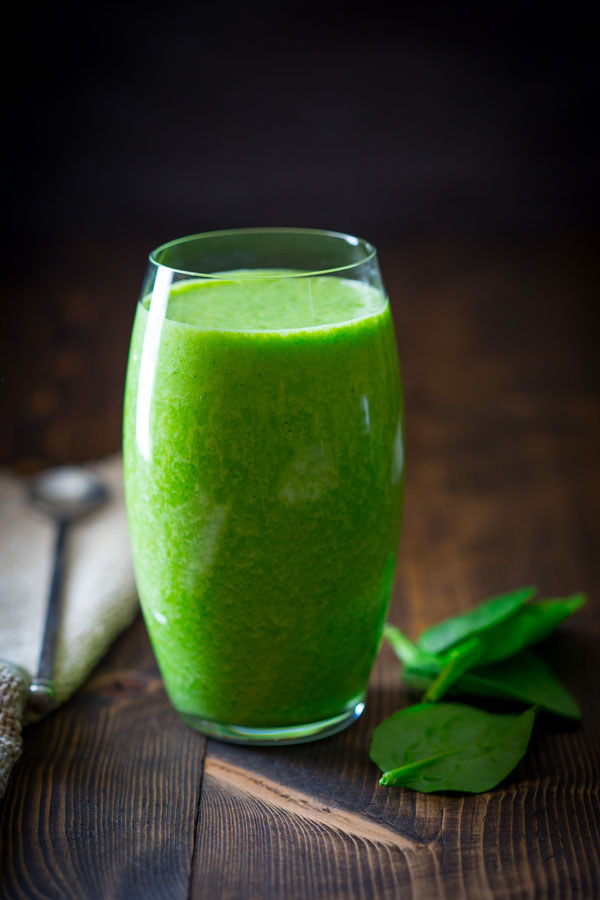 Katie Webster / Via healthyseasonalrecipes.com
"For breakfast I make sure to have protein, because it helps keep me full all morning long. I have been making these green protein smoothies a ton lately. They have two servings of produce." (Get the recipe here.) —Katie Webster, creator of Healthy Seasonal Recipes
Frittata Bites
Tammy Lakatos and Lyssie Lakatos / Via nutritiontwins.com
"We love these little nuggets. They're super satisfying and a great breakfast when we're in a hurry. They're the perfect on-the-go protein, veggie and fiber combo to start our morning! We easily whip them up and often make them in advance and put them in the fridge or freezer and then grab them on the way out the door with a piece of fruit." (Get the recipe here.) —The Nutrition Twins, Lyssie Lakatos, RDN, CFT, and Tammy Lakatos Shames, RDN, CFT, registered dietitians, personal trainers, authors of The Nutrition Twins Veggie Cure
Scrambled Eggs and Arugula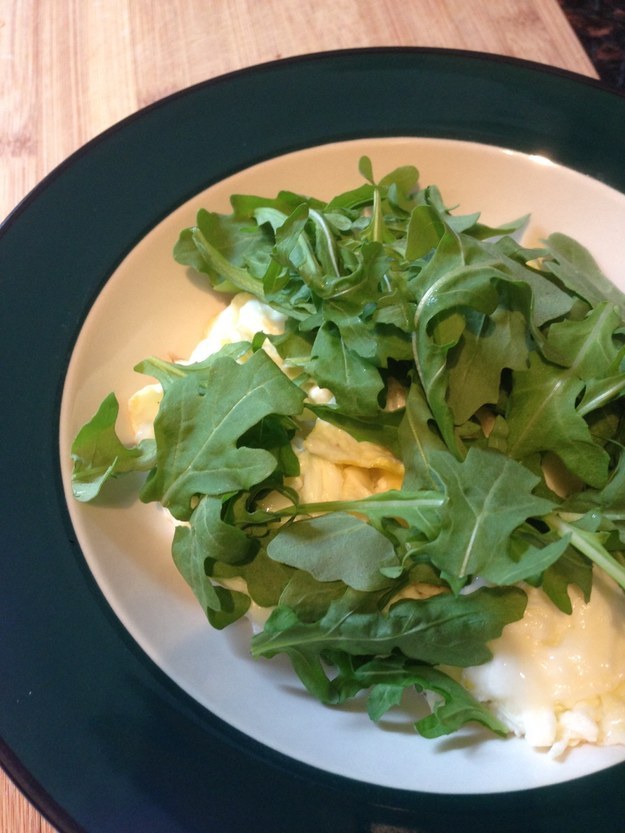 Katie Yip / Via instagram.com
"Another great way to get your protein and greens in for the day is by adding fresh arugula to scrambled eggs." —Katie Yip, New York City-based Pilates teacher
Apricot Granola
Danielle Omar / Via foodconfidence.com
"Granola is like upscale cereal. I love it because it's super versatile. One batch gives me several breakfast options. I can sprinkle it on Greek yogurt, cottage cheese, or chia seed pudding. I can even make muesli with it." —Danielle Omar, MS, RD, nutrition consultant and founder of foodconfidence.com
Avocado Smoothie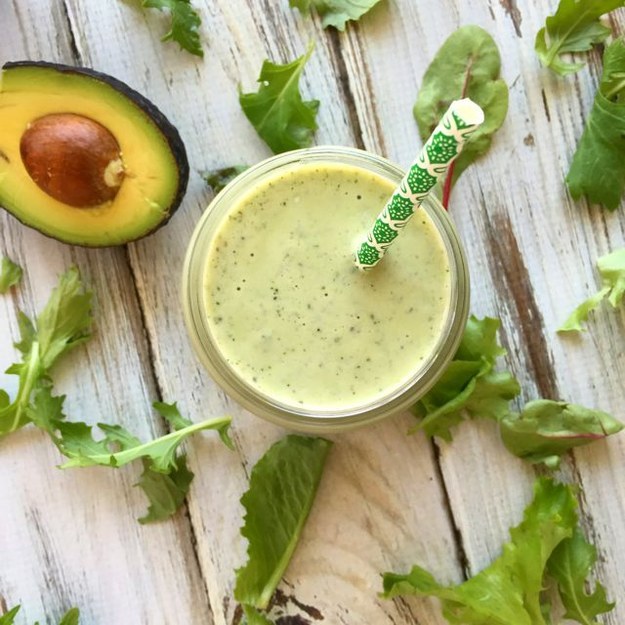 Amelia Winslow / Via eating-made-easy.com
"I'm often rushing around in the morning, and smoothies make a great portable breakfast. My latest favorite is made with 1/2 a small avocado, 1/2 cup plain yogurt, 1/2 cup milk, 1 frozen banana, 3 frozen green figs (sold frozen at Trader Joe's), 1/2 tsp vanilla and a large handful of baby spinach or kale. You'd never guess something so green would taste so good!" —Amelia Winslow, MS, MPH, creator of Eating Made Easy
Protein Pancake
"I start each day with by hydrating and eating a healthy breakfast. Most mornings this includes a protein pancake topped with fresh berries, my daily supplements and a variety of drinks: water, my apple cider vinegar cocktail and coffee or green tea. The protein pancake recipe is simple and includes a scoop of protein powder, egg whites, 1/2 mashed banana and ground flax seed." —Brittany Mullins, Virginia-based health coach and personal trainer and creator of Eating Bird Food
Whipped Banana Oatmeal
"I love oatmeal because it keeps me full all morning and provides a blank slate for all kinds of mixins and toppings. My favorite is my whipped banana oatmeal, which is naturally sweetened with banana, topped with a sprinkle of crunchy granola and a drippy drizzle of almond butter. Made with milk, it's got your whole grains, protein and healthy fats all in one." —Kath Younger, RD, founder of Kath Eats Real Food
Kale Smoothie Bowl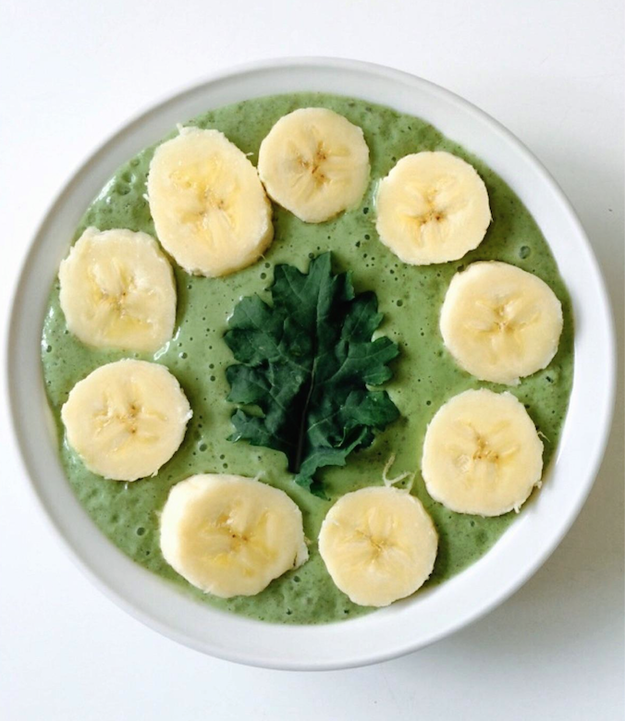 Rachel Beller
"I love powering up my mornings with this simple vegan Kale smoothie bowl. It's under 300 clean calories and a whopping 10 grams of fiber!
1 Frozen banana 1/2 cup frozen kale 1/3 cup unsweetened almond or coconut milk 1/4 cup Vegan yogurt (Greek yogurt or Kefir works too) 1 TBS chia seeds 1/4 tsp cinnamon
Fiber up and enjoy!" —Rachel Beller, MS, RD, president and founder of Beller Nutritional Institute, LLC
Crustless Spinach Quiche
"Breakfast is always such a rush in the morning and often folks skip breakfast or grab a sugar-rich granola bar. I love the fact I can make these in muffin tins and store each in individual bags for the week. Simply combine a frozen bag of spinach, 5 eggs, 1 cup 2% milk, and 1 cup shredded cheese in a bowl. Pour into our muffin tins. Bake. We have protein-rich breakfast for a week keeping us full until lunch!" —Shelly Marie Redmond, MS, RD, LDN, author of Eat Well And Be Fabulous, and founder of Skinny Louisiana
Eggs, Bacon, and Spinach Muffin with Ezekiel Toast; Coffee with Soy Milk
"These are tasteful and keep me fuller longer on the days I know I will have an intense training session and have a busy day. It provides me with the protein, healthy fats and good carbs I need to stay energized." —Idalis Velasquez, NASM-certified personal trainer and nutrition specialist
Chocolate Brownie Oatmeal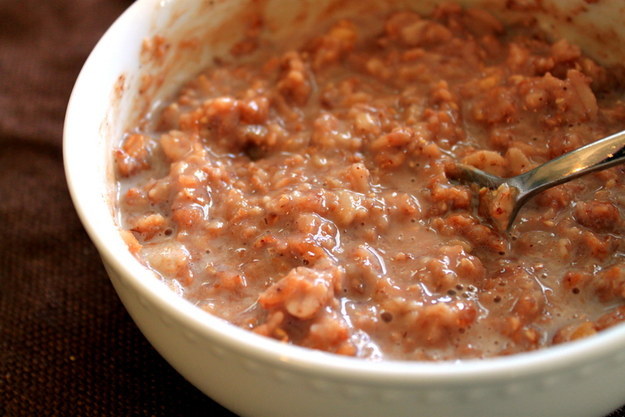 Anjali Shah / Via pickyeaterblog.com
"I absolutely love this dish because it's creamy, rich, and delicious: it tastes just like a decadent dessert. But thanks to the power of raw, unsweetened cocoa powder, whole grain oats, and just a dash of sugar — it's filled with antioxidants and fiber and is so good for you! You can enjoy this guilt-free for only 250 calories and ~5g sugar for an entire bowl of oatmeal." (Get the recipe here.) —Anjali Shah, board certified health coach and owner and food writer at The Picky Eater
Avocado and Salmon Omelette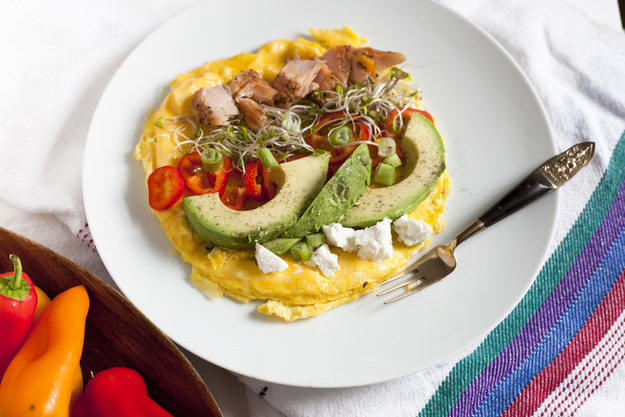 Carlene Thomas / Via instagram.com
"Many Americans are lackluster about getting enough vegetables and protein at breakfast! This omelette keeps me full on smart fuel the whole morning. Between the microgreens, avocados, peppers and salmon, you're getting lots of foods that help keep your hair, skin and nails healthy. The little bit of strong cheese gives lots of flavor without the calories and fat since a little goes a long way!" (Get the recipe here.) —Carlene Thomas, RDN, LD, dietitian nutritionist and healthy living blogger
Homemade Soup
Cheryl Harris
"I'm a fan of non-traditional breakfast. Today breakfast is one of my favorites: homemade soup. Turkey bone broth with carrots, celery and noodles is a nice blend of protein, carbs and fiber, and a soothing and nourishing way to start my day." —Cheryl Harris, MPH, RD, registered dietitian nutritionist, wellness coach at Harris Whole Health, and blogger at Gluten Free Goodness
Ham-Crusted Quiche
Jorge Cruise / Via jorgecruise.com
"Skip the carb-filled crust of a normal quiche and replace it with ham. Add your eggs, mushrooms, some cheese and seasonings and you have a great way to start your day." (Get the recipe here.) —Jorge Cruise, ACSM- and ACE-certified trainer, and author of Stubborn Fat Gone!
Avocado Hummus Toast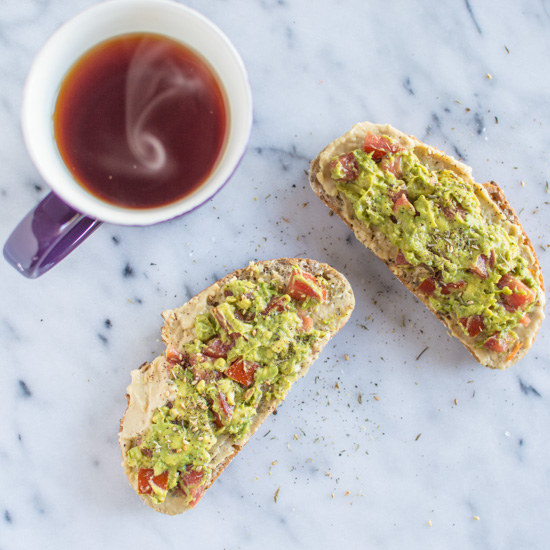 Lisa Lin / Via healthynibblesandbits.com
"Breakfast is the most important meal of the day, so I want to eat something that will leave me full and satisfied. This avocado hummus toast is one of my favorite savory breakfast dishes because it is packed with protein and healthy fats that will keep me going for hours!" (Get the recipe here.) —Lisa Lin, creator of Healthy Nibbles and Bits
PB&J with Fruit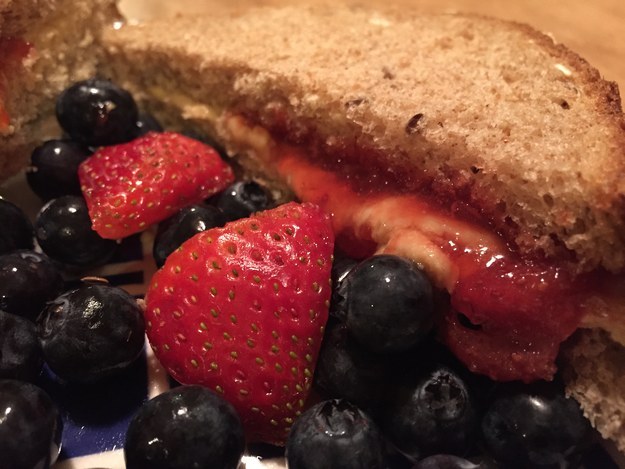 Aaron Flores
"A healthy breakfast is a peanut butter and jelly sandwich with a side of fruit. Although not a typical breakfast, for me, it is a very filling and satisfying meal. The bread comes from a local bakery, the peanut butter and jelly are both homemade and the fruit comes from our CSA box. It's simple, but with exceptional ingredients, it feels like a 3-star Michelin meal." —Aaron Flores, RDN, California-based nutritionist specializing in intuitive eating and Healthy at Every Size (HAES)
Veggie Frittata
"Here's a vegetable frittata I made for breakfast recently, using leftover broccoli from the previous night's dinner and a fresh tomato on top. I love breakfasts that include vegetables because it makes it easier to get those 5 servings in by the end of the day. And there's always some vegetable in the fridge that needs to be used up." —Monica Reinagel, MS, LD/N, CNS, The Nutrition Diva
Baked Oatmeal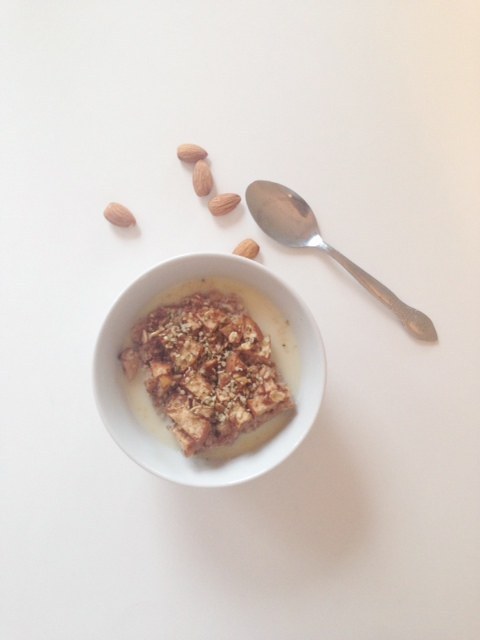 Nita Sharda / Via carrotsandcake.ca
"I am by no means a "morning person" so for me, making breakfast ahead of time is crucial. ​I love this recipe for Baked Oatmeal because I can prep it ahead of time, it has only a few ingredients and it's loaded with fibre to keep me full for the morning. To keep things interesting I switch the type of fruit I add, some times it's berries, apples or even pumpkin puree." (Get the recipe here.) —Nita Sharda, RD, owner of Carrots and Cake Balanced Nutrition Consulting
3-Ingredient Pancakes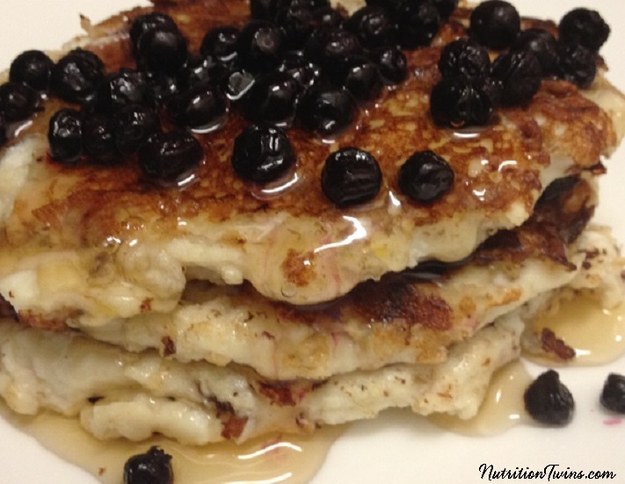 Tammy Lakatos and Lyssie Lakatos / Via pinterest.com
"We love these because they are so easy to make when you have a pancake craving. They are light and fluffy and packed with protein and unlike most pancakes, they aren't only carbohydrates, so they keep you satiated for hours, preventing cravings and overeating. Each pancake is only 75 calories!" (Get the recipe here.) —The Nutrition Twins, Lyssie Lakatos, RDN, CFT, and Tammy Lakatos Shames, RDN, CFT, registered dietitians, personal trainers, and authors of The Nutrition Twins Veggie Cure
Egg, Avocado, and Cheese Toast
Emily Dingmann / Via anutritionisteats.com
"My favorite breakfast is without a doubt, avocado toast with a fried egg. Not only is it a great source of protein, healthy fats and whole grains but it keeps me satisfied until lunch! And it's insanely delicious." (Get the recipe here.) —Emily Dingmann, Minnesota-based nutritionist and creator of A Nutritionist Eats
Ham and Egg Cups
"This dish is SO easy and a great source of protein! Lay a slice of ham in our muffin tin. In a separate bowl, combine 4 eggs, 3/4 cup milk, 1 cup of cheese. Pour mixture into each muffin tin. Bake for 20 min at 350. Done! A great breakfast dish loaded with protein!" —Shelly Marie Redmond, MS, RD, LDN, author of Eat Well And Be Fabulous, and founder of Skinny Louisiana
29.
buzzfeed.com