Teriparatide is an injectable drug to treat severe osteoporosis, a condition where mineral loss causes the bones to become brittle and to fracture easily.
Teriparatide improves bone strength by stimulating the formation of new bone. It does this by increasing activity of bone-forming cells called osteoblasts.
Other, more common first-line treatments for osteoporosis aim to preserve bone strength and inhibit the activity of osteoclasts – bone cells that resorb old bone tissue during the healing process.
By contrast, teriparatide stimulates bone formation by mimicking the action of parathyroid hormone (PTH) on bone cells.
We've long known that PTH could stimulate bone formation. But when PTH levels are chronically elevated, bone resorption is stimulated even more, resulting in bone loss.
A key discovery in 2001 was that daily injections of teriparatide below the skin caused a short-lived peak in PTH (1-34) levels. This peak stimulated bone formation due to the activation of pre-existing osteoblasts and the recruitment of new osteoblasts, instead of increasing the activity of osteoclasts.
Australia's Therapuetic Goods Administration (TGA) approved teriparatide in 2003.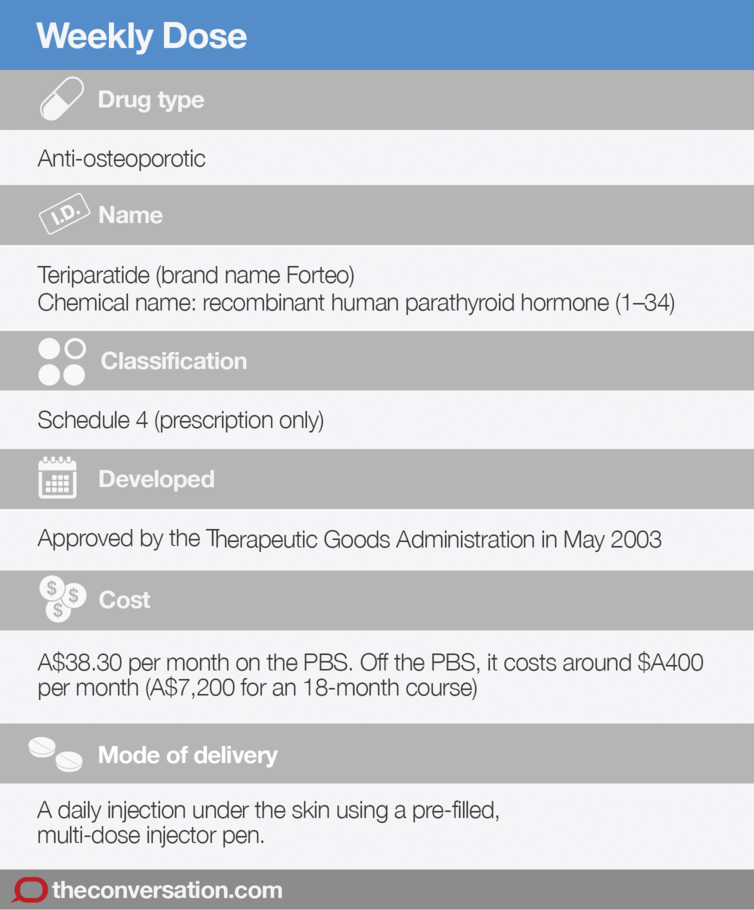 Benefits
Teriparatide increases bone mineral density at the spine and hip.
In a randomised controlled trial of postmenopausal women with osteoporosis who'd had one or more fractures, teriparatide reduced the risk of new spinal fractures by 65%. It also reduced back pain.
Other non-spinal fractures were reduced by 53% – but the study could not detect reductions in the rate of hip fractures.
The reduction of non-spinal fractures appears to be greater than with first-line anti-osteoporotic drugs, which typically reduce these fractures by about 20-25%. However, head-to-head studies are lacking.
Side-effects
Side-effects of teriparatide include headache (8%), nausea (8%), dizziness and reactions at the site of the injections.
Around 3-11% of users will have abnormally high levels of calcium just after dosing. Sustained high levels of calcium (hypercalcaemia) are rare but could result in weakened bones and problems with the heart and brain.
Teriparatide has a black-box warning about an increased incidence of osteosarcoma, a type of cancer that starts in the bones. This was found in experiments on rats that were exposed to three times and 60 times the normal human exposure over a significant portion of their lives.
No signal for an increased risk of this type of cancer has been found in patients who have used teriparatide. Nevertheless, teriparatide is not recommended for patients who may be at increased risk of osteosarcoma, including those with a history of bone disorders.
Teriparatide should not be prescribed to adolescents or children.
Length of treatment
In Australia, because of the possible risk of osteosarcoma, the maximum lifetime duration of teriparatide therapy is 18 months. In the rest of the world it is two years.
Studies show the anti-fracture benefits of teriparatide increase the longer the patient remains on treatment. Non-spinal fractures are reduced for up to two years of treatment, but less so in the first six months of treatment.
Non-spinal fractures are also reduced for up to two years after treatment stops, as bone formation continues.
After teriparatide therapy finishes, antiresorptive therapy should immediately begin to further improve bone strength and to increase spine and hip bone mineral density. Otherwise, the accrued benefits of bone mineral density and fracture prevention from teriparatide will be lost.
Cost and barriers
Teriparatide is subsidised on the Pharmaceutical Benefits Schedule (PBS), but only for patients with a history of at least two fractures with one occurring after taking a first-line anti-osteoporosis treatment, called antiresorptive therapy, for at least 12 months.
A bone mineral density test T score of below -3 is also required.
On the PBS, a month's supply costs A$38.30.
Using a non-PBS prescription, the cost of teriparatide is about A$400 per month for 18 months, or about A$7,200 per treatment course.
Only medical specialists can start teriparatide therapy, but GPs can write subsequent teriparatide prescriptions.
Despite reimbursement for teriparatide in patients with severe osteoporosis, use in Australia is among the lowest in the world. The reasons are unclear, but may be due to lack of awareness among specialists, GPs and patients. It may also be because patients don't like the idea of giving themselves daily injections.

Peter Robert Ebeling receives research funding from NHMRC and Eli-Lilly, and honoraria from Eli-Lilly.