Not all sex is great sex.
New Line Cinema / Via lovebyminea.tumblr.com
Porn and rom-coms lied to you.
If we're being honest here, sex can be awkward, messy, sloppy, and not exactly flawless.
Netflix / Via orangeis.tumblr.com
But that doesn't necessarily mean the sex is bad. Awkward sex can be great sex — especially if you can laugh about it and just roll with the weirdness. So if you can relate to any of these completely uncalled for sex fails, then congratulations — you're normal.
When you can tell they think they're killing it right now and…no.
Universal Pictures / Via uproxx.com
What is that even?
When someone doesn't know your clitoris from your clavicle.
FOX / Via reddit.com
Or your penis from your perineum.
youtube.com / Via kingstonmcbride.tumblr.com
When your roommate needs something very urgently and apparently has zero idea what sex sounds like.
Treehouse Pictures / Via homofiction.tumblr.com
Treehouse Pictures / Via homofiction.tumblr.com
At least now everyone is sufficiently acquainted with each other.
When 69 sounds like a really good idea…in theory.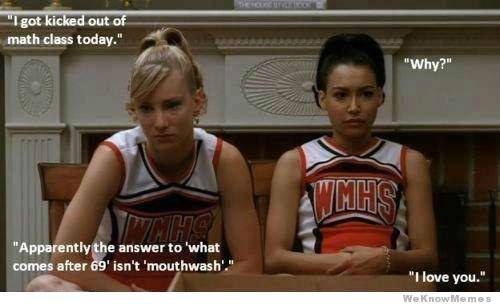 FOX / Via weknowmemes.com
This should really come with height suggestions like those rides at Six Flags.
When someone's body makes a ridiculous sound and you're just like WTF is that?
Nickelodeon / Miramax / Via weknowmemes.com
Do you acknowledge it? Do you power through? WHAT IS THE ETIQUETTE FOR QUEEFING?
When a penis decides to have no chill and just finish whenever the hell it wants.
Universal Pictures / Via mundo—-cine.blogspot.com
But… we weren't done…
Or when a vagina is all "Nope, sorry, not today."
When the condom slips off inside you, prompting an immediate search and rescue mission.
Cartoon Network / Via imgur.com
Or when you realize the condom broke like forever ago and all of your good sex feels are GONE.
FOX / Via reddit.com
When switching positions isn't really seamless.
HBO / Via jolieing.tumblr.com
"No… that's not what I was going for. OK, wait, YOU STAY THERE I'LL MOVE."
When a leg cramp makes you scream and moan for all the wrong reasons.
youtube.com / Via wifflegif.com
When shower sex turns into a trip to the E.R. because holy slippery tiles.
FOX / Via theaerogram.com
When your genitals tell your mouth that now is definitely the right time to say "I love you."
HBO / Via out.com
ACT COOL.
When there was literally no jizz warning and you really could have used one.
When your thrusting is completely out of sync and you're basically just playing naked tug-of-war at this point.
youtube.com / Via aux.tv
When you're all "Yeah, I'm up for anything!" and they completely prove you wrong.
Comedy Central / Via imwithkanye.tumblr.com
And when you're ready to go to sleep but the wet spot is like LOL have fun with that.