In case you're looking for a healthy and tasty alternative to that sad desk salad.
Jenny Chang / BuzzFeed
Lunch is actually a super important meal, and don't let breakfast tell you otherwise.
When you eat the right kind of food at lunch, it'll help you stay full and alert throughout the afternoon. You won't be as tempted to snack, and you'll feel more energized. But healthy lunch can sometimes be a little hard to plan for and figure out.
So we turned to some healthy people to see what they like to eat for lunch. Some of these folks are nutrition experts with advanced degrees and strings of letters after their names. Others are personal trainers, fitness coaches, and healthy food bloggers. Regardless, these are people who think a ton about healthy eating and how to choose food that makes you feel good.
Here's what they shared. Some good ideas in here you might want to try yourself.
Stuffed Ranchero Sweet Potato
"This recipe is perfect to pack up when you're on the go! One sweet potato provides over 300% of your daily vitamin A needs, and comes packed with other sassy nutrients." (Get the recipe here.) —Wendy Lopez, nutritionist, and Jessica Jones, MS, RD, co-hosts of Food Heaven Made Easy
Vegetable Grits
"I recently moved from the West Coast to the South and have totally fallen in love with grits. But in true California fashion, I add a bunch of vegetables to them — in this case a bunch of collard greens or kale, blitzed in the food processor. They are super-green, creamy and make the perfect one-bowl lunch with a couple poached eggs on top." (You can find the recipe here.) —Anjali Prasertong, creator of Eat Your Greens and Contributing Editor to The Kitchn
Egg and Avocado Sandwich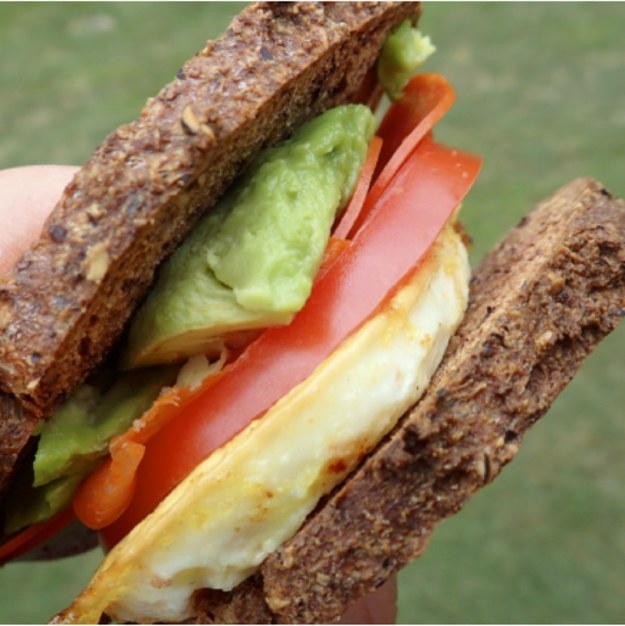 Jorge Cruise / Via instagram.com
"I like a good salad, but I LOVE a good sandwich. I use Paleo Almond Bread so that I can still enjoy my favorites like this amazing egg, avocado, pepperoni, and tomato sandwich without overdoing the carbs! So good!" (Get the recipe here.) —Jorge Cruise, ACSM- and ACE-certified trainer, and author of Stubborn Fat Gone!
Skillet Bananas with Coconut and Chocolate Chips
"Often I like a non traditional lunch like this. I get tired of salads! Love this new recipe. It's Skillet Bananas with Coconut and Chocolate Chips! I dip the chopped banana in egg whites for some protein and cook in a skillet with some coconut oil. Sprinkle with dried coconut ribbons, stevia sweetened chocolate chips and raw cacao powder. It's delicious." —Holly Perkins, C.S.C.S., author of Lift To Get Lean and creator of Women's Strength Nation
Shrimp Spring Rolls with Peanut Sauce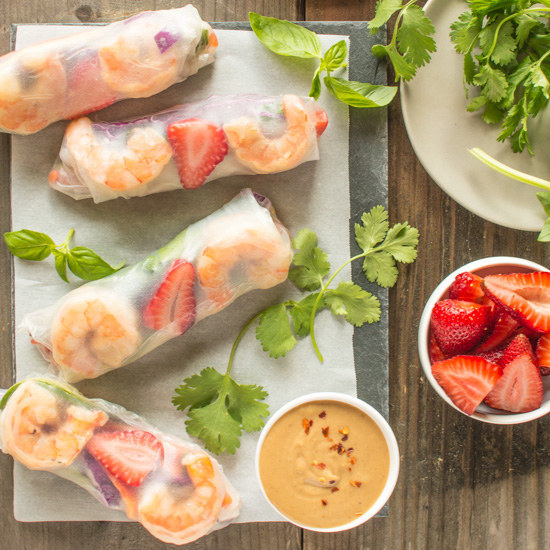 Lisa Lin / Via healthynibblesandbits.com
"I like my lunches to have a good balance of carbs, protein, and vegetables. Spring rolls are one of my favorite things to bring to work because they are portable and I can easily make variations by switching up the protein and vegetables." Get the recipe here. —Lisa Lin, creator of Healthy Nibbles and Bits
Salad with Chicken, Cheese, Carrots, Hummus, and Crackers
"Most days I pile a bunch of delicious things on top of a salad. It's quick and easy and includes a variety of flavors and nutrients. This one had rotisserie chicken, stinky cheese, carrots, hummus, a homemade dressing and crackers on the side!" —Kath Younger, RD, founder of Kath Eats Real Food
Chopped Quinoa Salad with Cranberries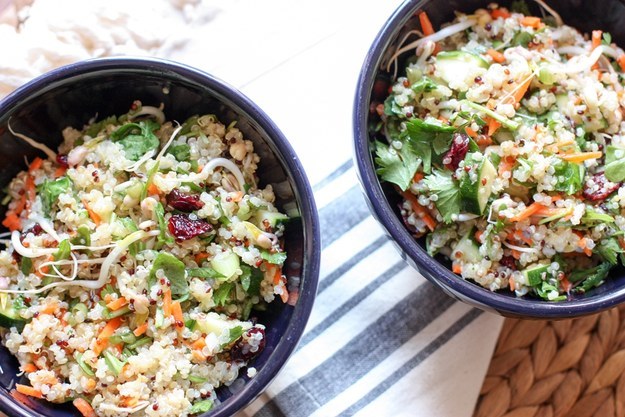 Danielle Omar / Via foodconfidence.com
"I love this salad for lunch because it's light and refreshing, yet super satisfying. It's also easy to throw together and it tastes just as delicious on day 3 as it did on day 1. It doesn't hurt that it's also chock full of antioxidants, either." (Get the recipe here.) —Danielle Omar, MS, RD, nutrition consultant and founder of foodconfidence.com
Corn Tortilla with Melted Cheese, Sautéed Baby Greens, Salsa, & Fried Egg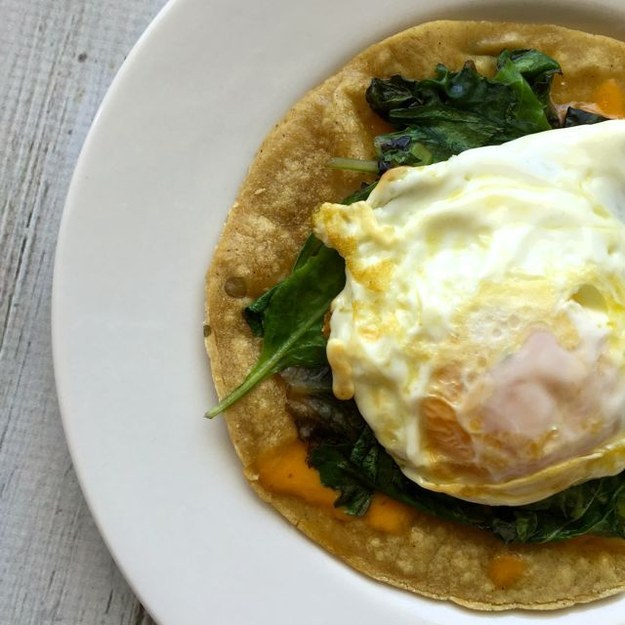 Amelia Winslow / Via eating-made-easy.com
"This light lunch is super satisfying, plus quick to prepare and clean up, since the whole thing is made in one skillet. It also makes a great weekend breakfast." —Amelia Winslow, MS, MPH, creator of Eating Made Easy
Protein Salad
"Quick 5-minute meal: sautéed spinach, avocado, tomatoes, Italian tuna, and chopped almonds. I really love this lunch because it is easy to prepare, it fuels and energizes me and it is delicious!" —David Kirsch, celebrity fitness trainer and CEO of David Kirsch Wellness Co.
Almond-Crusted (Baked) Chicken Nuggets
"A quick, easy, and heart-healthy alternative to fried chicken nuggets are my 5-ingredient baked chicken nuggets. The chicken and almond meal/spice crust provides an excellent dose of healthy fats and lean protein to keep you feeling fuller for longer." (Get the recipe here.) —Katie Yip, New York City-based Pilates teacher
Cauliflower Crust Pizza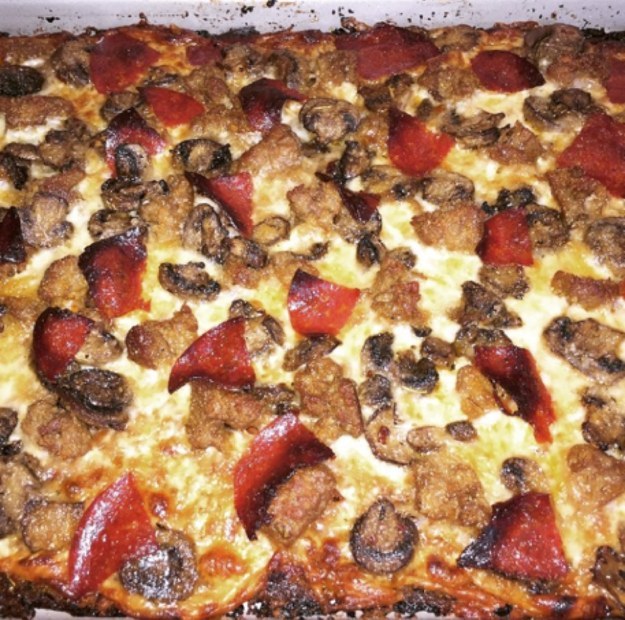 Jorge Cruise / Via instagram.com
"Pizza crust made with cauliflower is surprisingly delicious and a much better alternative to a carb-rich regular crust. Get the crust recipe here and just add your favorite toppings." (Get the recipe here.) —Jorge Cruise, ACSM- and ACE-certified trainer, and author of Stubborn Fat Gone!
Loaded Vegan Sandwich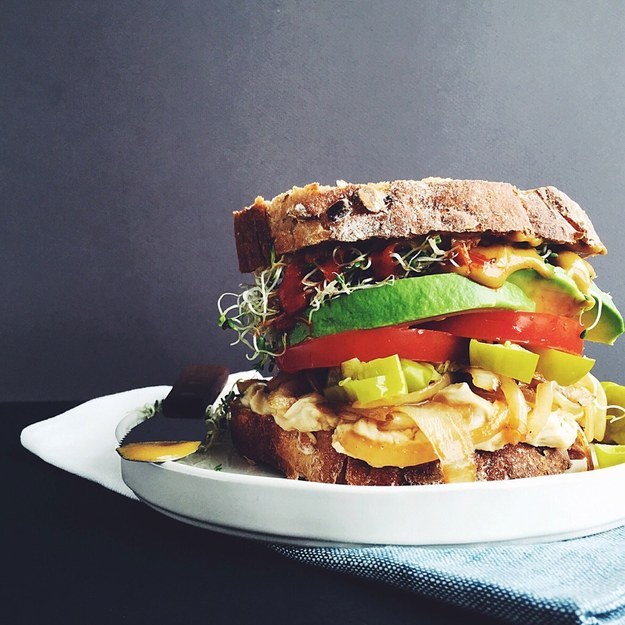 John and Diana of The Minimalist Baker / Via minimalistbaker.com
"With my food blogging schedule I'm usually eating a recipe I've made for the blog for lunch! This is a great example of my ideal midday meal: A loaded vegan sandwich with all the fixings — veggies, hummus, avocado and lots of sauce." —John and Diana, co-creators of The Minimalist Baker
Lentil Veggie Soup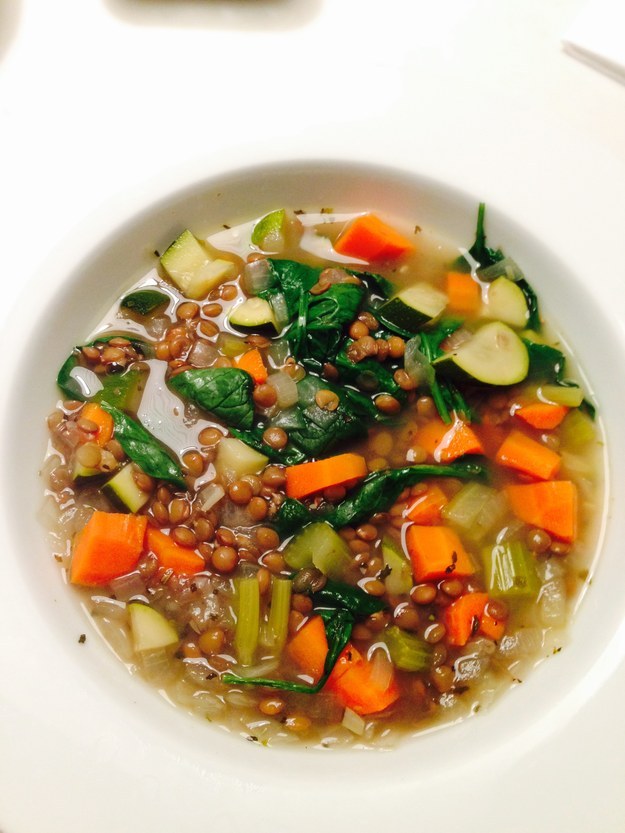 Rachel Beller
"My veg loaded lentil soup is the perfect all inclusive lunch solution. It keeps me full, energized, and satisfied. Not only is this fiber-filled soup delicious, it's super easy to make and lasts for days." —Rachel Beller, MS, RD, president and founder of Beller Nutritional Institute, LLC
Cheesy Stuffed Peppers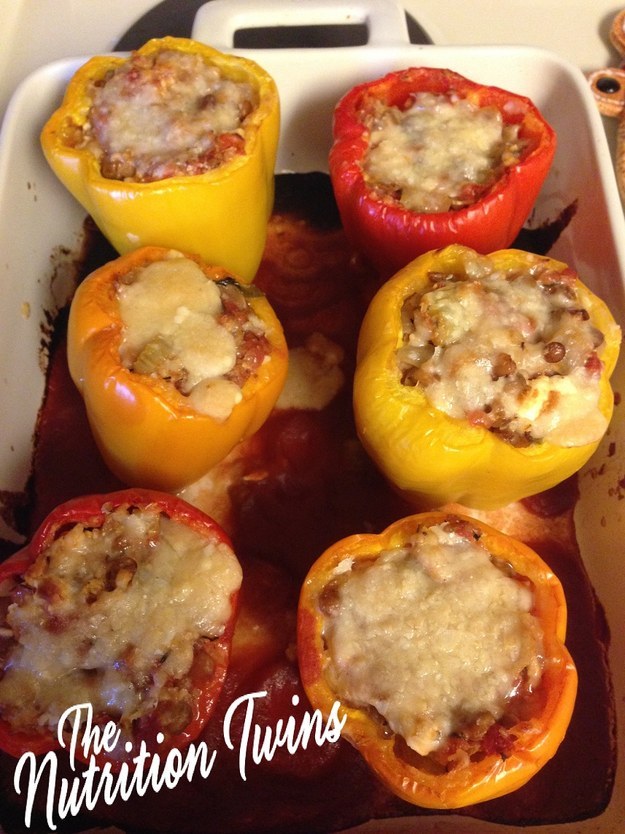 Tammy Lakatos and Lyssie Lakatos / Via pinterest.com
"We love these peppers because they're so cheesy, gooey, indulgent-feeling and satisfying, yet so healthy. They're only 220 calories each and provide 17 grams of satiating protein! And they pack in 9 grams of fiber thanks to all of the veggies, including beans and cauliflower." (Get the recipe here.) —The Nutrition Twins, Lyssie Lakatos, RDN, CFT, and Tammy Lakatos Shames, RDN, CFT, registered dietitians, personal trainers, and authors of The Nutrition Twins Veggie Cure
Black Bean Burrito Bowl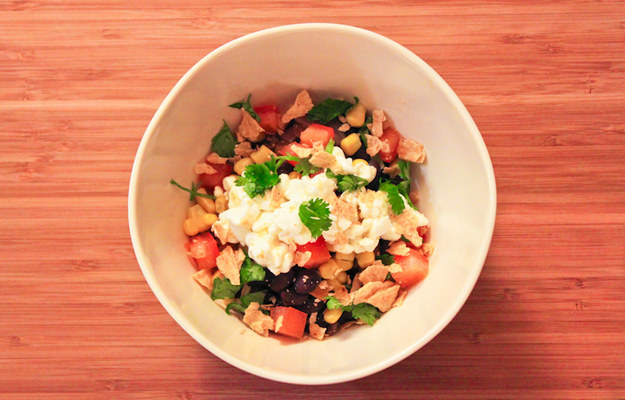 Anjali Shah / Via pickyeaterblog.com
"This black bean burrito bowl is spicy, filling, has great texture and crunch and is super satisfying. It's also really easy to make and travels well, which makes it a perfect lunch! The fiber and protein from the black beans, rice and veggies helps keep this a light and healthy lunch that will keep you full for hours." (Get the recipe here.) —Anjali Shah, board certified health coach and owner and food writer at The Picky Eater
Japanese-Style Veggie Pancakes
"These are Okonomiyaki: Japanese style vegetable pancakes, made with shredded cabbage and carrots and topped with spicy ketchup, cilantro and sesame seeds. I saw the recipe in Food and Nutrition Magazine and couldn't wait to try it — and they were AWESOME. I froze the leftovers to pop in the toaster for quick lunches." —Monica Reinagel, MS, LD/N, CNS, The Nutrition Diva
Briyani (Rice, Veggies, and Spice Mix)
Nita Sharda / Via carrotsandcake.ca
"I'm a huge fan of one-pot-meals and for obvious reasons, Indian food is a go-to for me. I love making a big batch of Briyani which is a mixture of rice, veggies and spices – the recipe can be easily adapted for vegetarians or meat-eaters with your choice of protein. This is the type of lunch that won't have you snoozing after you eat it. Instead, you'll be loaded with energy for the rest of the days activities. Win!" (Get the recipe here.) —Nita Sharda, RD, owner of Carrots and Cake Balanced Nutrition Consulting
Black Bean Quinoa Salad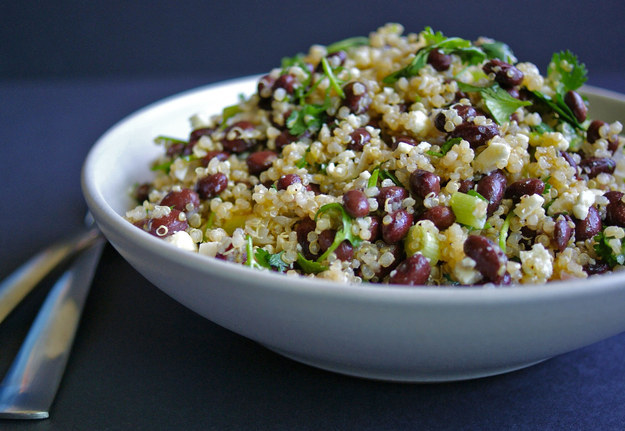 Emily Dingmann / Via anutritionisteats.com
"This simple black bean quinoa salad is perfect to pack for lunches and is dressed with a simple lime and honey vinaigrette. I like to serve it over greens for a lunch that has 23 grams of (vegetarian!) protein per serving!" (Get the recipe here.) —Emily Dingmann, Minnesota-based nutritionist and creator of A Nutritionist Eats
Salad with Sweet Potato and Grilled Chicken
"I love to load up on vegetables by having a huge salad for lunch. I start with a base of leafy greens, toss on whatever veggies I have in the fridge and top it with a portion of lean protein and a little healthy fat. For this salad I used spring mix, red onion, cucumber, grape tomatoes, mushrooms, leftover roasted sweet potato chunks for a hint of sweetness, grilled chicken and topped it all with a zesty tahini dressing." —Brittany Mullins, Virginia-based health coach and personal trainer, and creator of Eating Bird Food
Pan Seared Salmon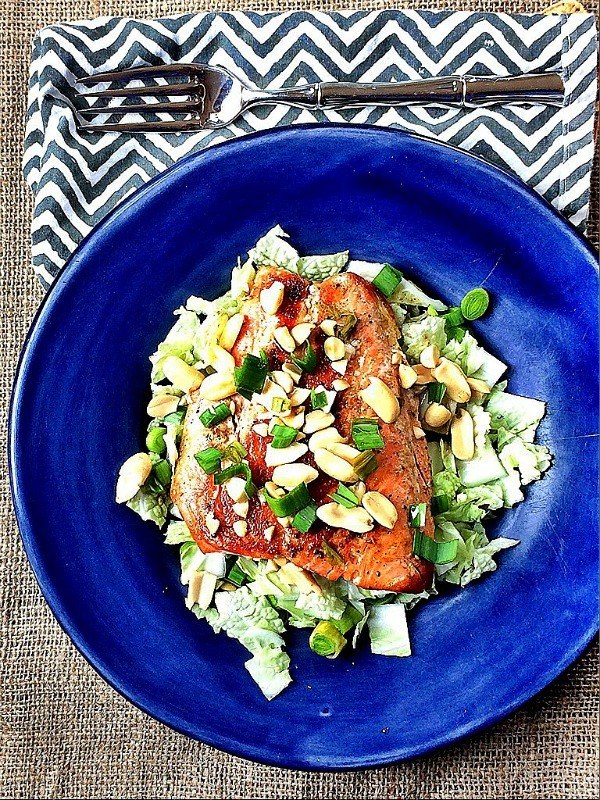 EA Stewart / Via eastewart.com
"I love a light, but protein packed lunch that fills me up, but doesn't make me want to take a post-lunch siesta! This Quick and Easy Asian Pan Seared Salmon for One, is a delicious way to get your omega-3's, with the added bonus of cancer protective cruciferous veggies form the Napa cabbage. It's the ultimate food-as-medicine!" (Get the recipe here.) —EA Stewart, RD, integrative dietitian nutritionist and blogger at The Spicy RD
Chicken and Chickpea Green Goddess Power Salad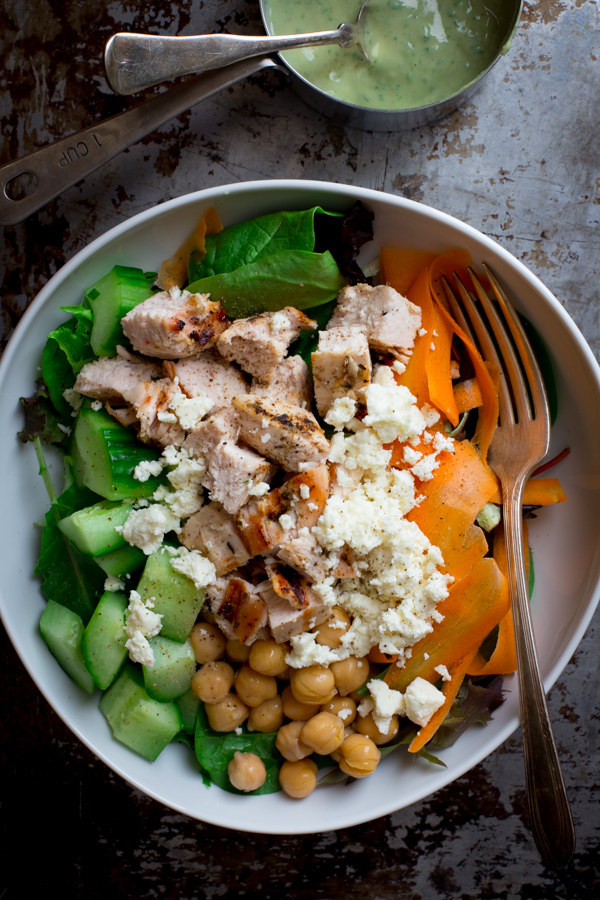 Katie Webster / Via healthyseasonalrecipes.com
"At lunchtime I make a giant salad almost every day. I do a lot of strength training, so I'm always sure to add lean protein for muscle recovery. These salads usually are just cobbled together with whatever I have in the fridge, greens, canned beans, left-over grilled chicken and even left-over roasted veggies from the night before. But the key is that I make it my mission to keep great home-made dressings on hand so I don't have to spend a lot of time putting the salad together." (Get the recipe here.) —Katie Webster, creator of Healthy Seasonal Recipes
Shrimp Tacos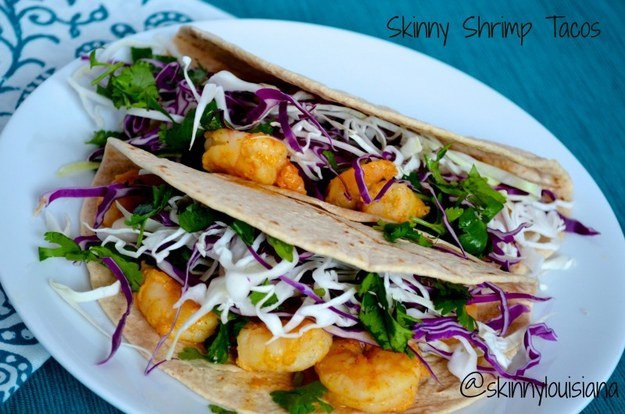 Shelly Marie Redmon
"Being from the coast, shrimp is my go-to protein! Shrimp is amazingly easy to cook, surprisingly lower in fat than most protein sources. This taco dish is loaded with my weight loss weapons — fiber and protein!" (Get the recipe here.) —Shelly Marie Redmond, MS, RD, LDN, author of Eat Well And Be Fabulous, and founder of Skinny Louisiana
Salmon Lentil Supergreen Salad
"If you're smart about food prep, eating healthy is easy! A typical lunch I make is a leftover protein paired with whatever I have in my fridge! Salmon and balsamic lentils over super greens with extra crunchy produce is always a winner because of the antioxidant content and the important omega 3's from the salmon!" —Carlene Thomas, RDN, LD, dietitian nutritionist and healthy living blogger
Burrito Bowl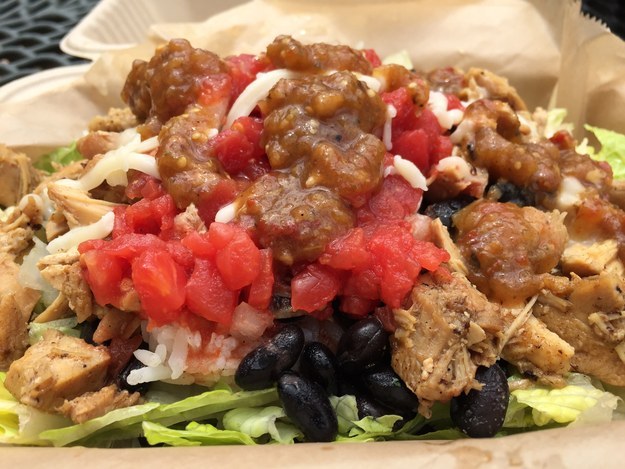 Aaron Flores
"We are lucky enough at work to have local food trucks come by each day for lunch. I love the variety that they offer and to me, they help change the notion that food made fast can be healthy. So with that in mind, here was my most recent lunch. It was a great burrito bowl with black beans, chicken, rice, lettuce, cheese and some salsa. For me, it's a very satisfying lunch that both honors my cravings and my body." —Aaron Flores, RDN, California-based nutritionist specializing in intuitive eating and Healthy at Every Size (HAES)
Beans and Broccoli
Cheryl Harris
"Lunches are often bean salads with leftover roasted veggies. I love to pair Cannellini beans with roasted broccoli, some Kalamata olives and fresh herbs. It's an easy make-ahead lunch, and the fiber keeps me satisfied through the afternoon." —Cheryl Harris, MPH, RD, registered dietitian nutritionist, wellness coach at Harris Whole Health, and blogger at Gluten Free Goodness
Salmon and Greens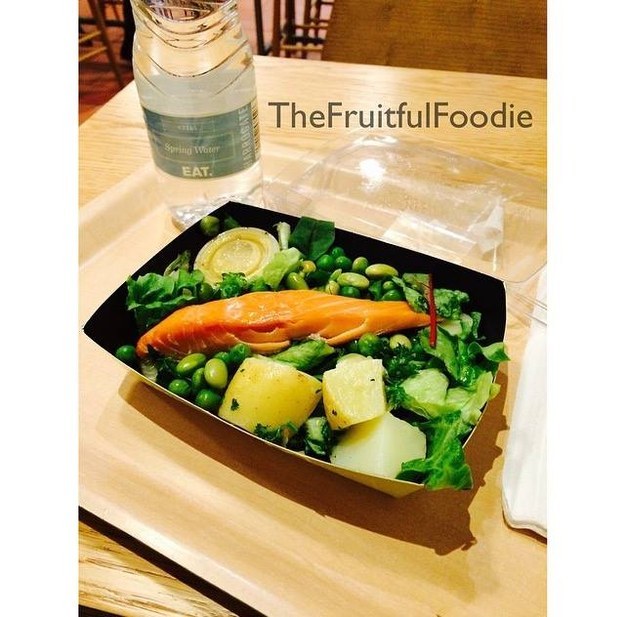 Aina Hussain
"Lunch for me is usually on-the-go and almost daily consists of a large portion of greens, be it salad or veg and a piece of protein. For example here the salmon and green peas, edamame beans and green leaves combination is not only tasty but keeps me full and happy till the next meal. A lot of people can tend to feel sluggish by eating a carb-fueled lunch thus making them less productive post-lunch and more prone to feeling sleepy! Eating a meal like this one shown is necessary to keep protein levels in check and making you less likely to want to snack in between meals." —Aina Hussain, registered nutritionist and founder of The Fruitful Foodie
Grain/Legume/Veggie Bowl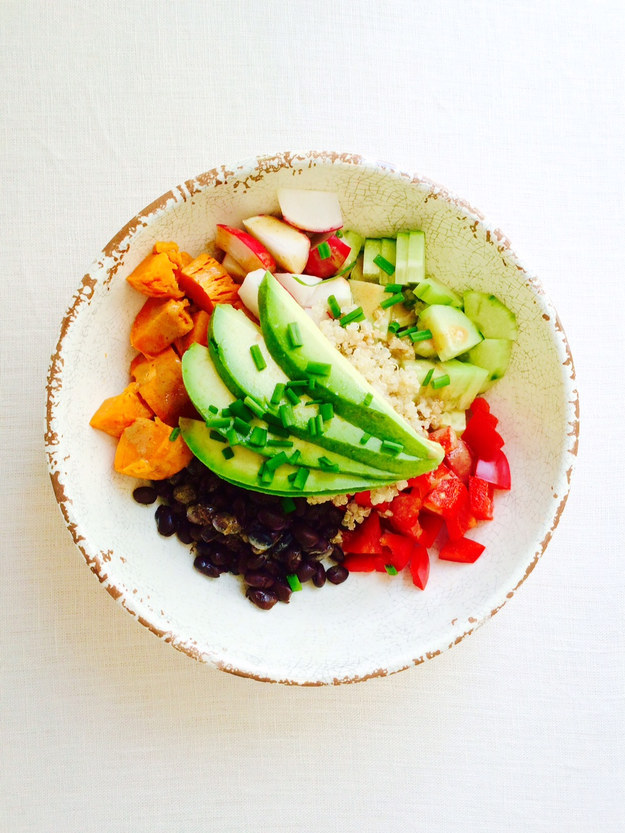 Gena Hamshaw
"Lunch these days is almost always a grain/legume/vegetable bowl of sorts. I use whatever leftovers I have (often a bean stew or a grain dish) along with the vegetables in my fridge. I'll often top the whole mixture with sliced avocado or a creamy, homemade dressing for flavor and healthy fat. It's filling, the possibilities are endless, and it keeps me satisfied through the afternoon." —Gena Hamshaw, certified clinical nutritionist, healthy food blogger and author of Choosing Raw
28.
buzzfeed.com
28.
buzzfeed.com